December 24, 2003
I wish you all a merry christmas and a happy new year!
November 4, 2003 Manowar announces Hell On Earth Part III
Release-date Europe: December 8, 2003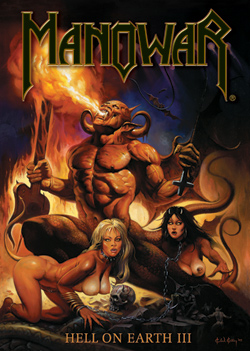 For more information please click here.
October 3, 2003 Links section is updated
with a new official fan site.

Manowar France
September 17, 2003 Great news #1
The members of MANOWAR are working around the clock on a new studio album.
An album title, song titles, or a release date are not confirmed yet.
Great news #2
ManowarŽs official site The Kingdom Of Steel is updated with a new design and a lot of new stuff.

August 21, 2003 Manowar is in the final stages of mixing Hell On Earth Part 3 video

July 30, 2003 Now you can use the Votecaster and Forum again.

July 11, 2003 Immortals section updated.

April 22, 2003 We have a new swedish warrior in the Immortals section. Aeropyornis from Umeć

February 7, 2003 Rumors says that Manowar is planning to go back on tour around April and
Germany was mentioned. The support act this time will be David Shankle Group
(DSG), the former guitarist of Manowar!
January 10, 2003 Videos/DVDs section is updated with information about
the new Video/DVD "Fire And Blood"
You can also download the lyrics for the new songs
"The dawn Of Battle" and "I Believe" in the Downloads section.
January 4, 2003 We have a new swedish warrior in the Immortals section. Herminator.
He has also sent us a great picture that you can watch in the Manowar Art section.
---
Copyright © 2000-2023 Johan Holm